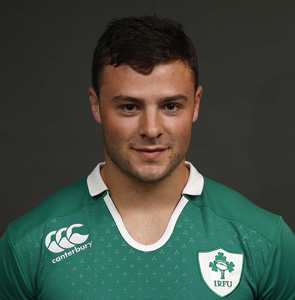 Robbie Henshaw
Things get real at the World Cup this weekend, two matches down, no more slip ups allowed from anyone who has serious ambitions of winning the thing.
First up on Thursday is Wales v Fiji. Wales are down to the bare bones now, Warren Garland has picked himself at eighth man, the orange peeler is on the wing, and at full back is a fan who came to an autograph session with his boots. Meanwhile, Fiji are punch drunk and this stage, it's like old skool tag team, first England gave them the works, then Australia put them through the mangler, now they stagger into the ring to find Wales cracking their knuckles. Fiji were the hot tip to make it out of this group, it hasn't worked out, but they've been competitive at some stage in each match. Do they have enough to beat Wales? Probably not, but they might give them an almighty scare.
France will at last be able to insult someone in their own language, as they no doubt trounce Canada.
On Friday, Georgia provide the cannon fodder for the All Blacks – if they can keep the score under 50 that will be a victory for them.
Satrurday is crunch time in a number of pools. First up is Japan v Samoa – the Japanese have been on a rollercoaster, riding the crest when they beat the Springboks, then brought back down to earth by Scotland. Samoa beat the USA then came unstack against the Springboks. Neither team can afford another defeat. On balance, I think Samoa will take this, the emotion of the victory over SA has weakened the Japanese.
Unbeaten Scotland take on the resurgent Springboks next. This is probably going to be very close, and a real test for the discipline of the Scottish defence. However, I think the Springboks are in the mood to blow holes in any defence, they can go blow to blow if they need that, and bring some of the finer skills as well.
That match pales into comparison though as next up it's England enter the last chance saloon with Australia. Losing is one thing, conceding a lead and losing is another, and doing it against Wales is the worst of all. Australia have looked impressive but haven't been tested at all. I think a lot of people are expecting England to lose and go out of the tournament. But as England showed in the six nations against France, they're not afraid of a scrap, they play best when their backs are against the wall, their minds are focused now, they have to beat Australia, and they will, and the whole country will breathe a sigh of relief.
On Sunday the Argentines will open proceedings by thrashing Tonga.
Then Ireland's World Cup really gets going, after two soft enough matches. The Italians have Parisse back, but frankly they need 15 Parisses back to mount a serious challenge in this match. They offered very little against Canada, less against France, and bravery aside, I can't see them getting anything out of Ireland. For Ireland, Rob Kearney is out, but the near mythical at this stage Robbie Henshaw is apparently primed to make his first appearance. I think we'll win, win well and set up the decider with France perfectly.
Rugby World Cup
Thursday, October 01
Wales vs Fiji 15:45
France vs Canada 19:00
Friday, October 02
New Zealand vs Georgia 19:00
Saturday, October 03
Samoa vs Japan 13:30
South Africa vs Scotland 15:45
England vs Australia 19:00
Sunday, October 04
Argentina vs Tonga 13:30
Ireland vs Italy 15:45