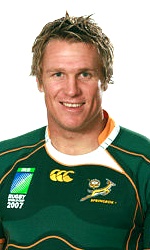 Jean de Villiers ( picture http://bit.ly/1iDhtM0 )
Argentina got the weekend action going, flattening Georgia and scoring 7 tries. The Pumas are in some form and are going to be a horrible team to meet in the next round – and if Ireland win their group, that's who they'll meet. But still not as horrible as facing the All Blacks, and one thing at time.
Italy had to work really hard to beat Canada – amazing when you think that the Italians are professionals, and get regular top class rugby in the 6 Nations. Canada, meanwhile, still have a few amateurs, who will have taken time off work to be at the World Cup, and get to play in bits and pieces tournaments.
South Africa got their World Cup back on track with an impressive win over Samoa. It didn't disappoint in the quality of the collisions, but it was pretty one sided in the end. South African captain, former Munster man and all round gent Jean de Villiers, just recently back from a long injury lay off, broke his jaw but played on for another 10 minutes. He's just announced his retirement from the game as a result of the injury, with over 100 caps under his belt for the Springboks.
The England Wales match was World Cup final intensity, which England came out just the wrong side of. Wales are continuing to ship injuries at a rate of knots, but manged to get their two scrum halves to produce a bit of magic for the win. I was hoping for a draw, which would have been affair result, and increased the chances of them both making the next round. The Wallabies have already won it twice, so I'm not going to be gutted if they drop out. And I really hope England make it out of the group, you'd be really hard hearted not to acknowledge what a fantastic job they've done with the tournament, and how the English crowds at the matches have really got behind the teams.
Australia dispatched Uruguay with ruthless efficiency ( I'm nearly dead cert for worst defeat!) in the first game on Saturday.
Then Scotland took their time to sort out the USA, they got the job done well in the end, after being behind at half time. The USA have some really good players, but can't put in a team performance for 80 minutes. Scotland are playing well these days, and there are good games ahead when they face Samoa and the Springboks.
Finally, Ireland rounded things off with another good win, this time over Romania. Fair enough, the Romanians had had only 4 days to recover from their defeat to France, but it wasn't an Irish A team either, with a lot of squad players given a runout. Earls played really well, as did Zebo and Tommy Bowe, we're building up nicely, bring on Italy and France!
Friday, September 25
Argentina 54 - 9 Georgia 15:45
Saturday, September 26
Italy 23 - 18 Canada 13:30
South Africa 46 - 6 Samoa 15:45
England 25 - 28 Wales 19:00
Sunday, September 27
Australia 65 - 3 Uruguay 11:00
Scotland 39 - 16 USA 13:30
Ireland 44 - 10 Romania 15:45