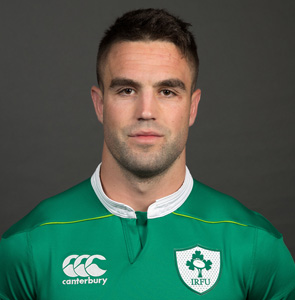 Connor Murray
Ireland put in a massive shift to subdue France at the Aviva Stadium on Saturday, it wasn't necessarily the prettiest rugby, but it was the result that counted. It was a day to roll your sleeves up and get stuck in. After a slow start by Ireland, where France picked up au pair of penalties, Ireland took charge of the match, and didn't let up after that. Every road France went down was a cul de sac, and it wasn't long before they were hors de combat. Johnny Sexton put in an assured performance, not looking at as if he hadn't played much in last 6 weeks. But the star of the show, scoring the only try and leading from the front was Connor Murray, one of the best fly halves in the world at the moment.
Here's me talking up the size of the French, but we actually had a heavier pack to start, even if their backs must have a kgs on us. That all changed when their prop Antonio came on. 6' 5 1/5", 24 stone (155kg), he's likely to tip the balance, a real mange tout! we are building nicely now, this tournament is still wide open!
The day had started with Scotland v Wales, were the Scots really put the Welsh away, after a shaky first half. I've been maligning the Scots, but they looked flat at the last outing while Wales were excellent and unlucky to lose against England. There was superbly bitter Scottish co commentator on the match who couldn't stop making the point about how slighted the Scots have been. In fairness, Scotland are in this to win!
Finally, Italy tore up the form book with a clever application of the rule book, exploiting the fact that if it's only a tackle, there's no offside. I would laugh at England for their confusion in getting to grips with the situation ( I did laugh actually). But at the same time, I'd like to thank Italian coach Conor O'Shea for choosing to spring this on England and not Ireland. England look eminently beatable.
And our excellent ladies and U20's team remain unbeaten!
The tournament now takes another weeks break, they have a pretty laid back work ethic!
Sunday 26th February
England 36 15 Italy
Saturday 25th February
Scotland 29 13 Wales
Ireland 19 9 France