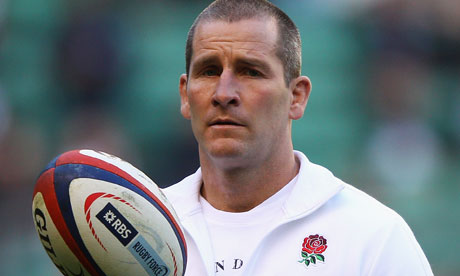 Stuart Lancaster ( picture http://bit.ly/1M4esAh)
Wales looked like a team that have shipped a car crash load of injuries as they struggled past Fiji. It wasn't pretty but they got the job done with the win.
France, again, looked interested in playing from time to time, against a Canadian team of half professional, half amateur players. Things looked interesting when Canada scored two quick tries, but France rallied themselves sufficiently to take the game away from the Canadians. Let's hope the French bring the same attitude next weekend!
New Zealand got up a good score over Georgia, but this won't be one for the tournament highlights reel. Georgia have little else to bring but incredibly powerful large men- I'd say Tbilisi is the last place on earth you'd want to go on the tear and pick a fight late at night. The All Blacks didn't enjoy being manhandled like that, and not in a 10 minute burst of adrenaline at the start of the match either, they were still being smashed 80 minutes later.
Japan's excellent World Cup continued with a good win over Samoa. But they may have left a bonus point behind, which could hurt their efforts to get out of the pool. Samoan discipline was atrocious, but they did manage to keep their tempers in check, no mean feat as the Samoans were absolutely seething with the frustration of big men powerless to prevent smaller men dominating them.
South Africa gave it about three quarter strength to take out Scotland – they also left a bonus point behind, but had a better game on their hands provided by the up and coming Scots. The Springboks monstered the Scots in contact, but the Scots used their wits and scored a good breakaway try.
The last match on Saturday featured the untimely demise of England's hopes in the tournament. Australia controlled the whole match, including something as rare as unicorn droppings, a decent Wallaby scrum! A very bitter pill for the English, and a bit of a black eye for organisers the IRB – each of Wales, England and Australia have higher rankings than every team in Pool B apart from South Africa – why didn't they spread the seeds around? England should have done better though, and changes will be made. Ominous for coach and captain.
Tonga Argentina was in patches as good as you're going to see. Flowing running champagne rugby, like France used to make before they got a taste for cheap wine. Argentina won it, but they knew they were in a fight.
Finally, time to downgrade Ireland's chances of winning the world cup from 'definite' to 'probable'. This is now the match Of Which We Will Not Speak, as a pretty basic Italian outfit gave us a good run for our money, reducing our lead to one point at one stage. When Peter O'Mahoney, hero for his try saving tackle, villain for his yellow card, was sent to the bin with 8 minutes left, it was time to reach for the heart medication. Ireland looked slow, gentle, like they were having a dream about playing Italy. But when all is said and done, we're into the quarters!
Wales 23-13 Fiji
France 41-18 Canada
New Zealand 43-10 Georgia
Samoa 5-26 Japan
South Africa 34-16 Scotland
England 13 - 33 Australia
England 45-16 Tonga
Ireland 16 - 9 Italy