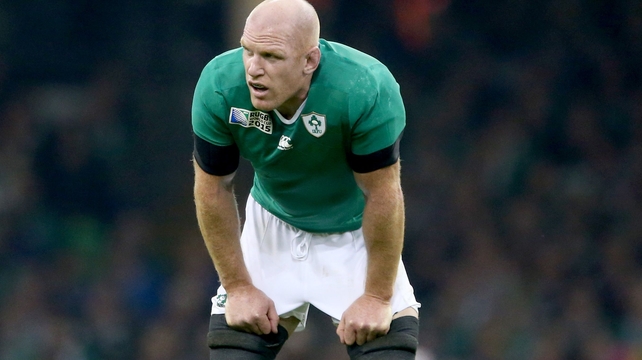 Paul O'Connell ( picture http://bit.ly/1Mtsp6y )
A quick word on the injury toll this world cup.
Already 34 players have been replaced because of injury from the point when the 31-man squads were finalised to the end of the pool stage. At the same point in the 2011 World Cup, there had been 16 withdrawals.
Players are on average 9kgs heavier than the last world cup, and just play too much rugby. Whereas in America's National Football League there are only 16 regular season games in a season, England first five-eighth George Ford played 32 matches for club and country last season.
Our own Jonny Sexton was known as Jonny Vaccances for the amount of time he spent injured during his Racing Metro stay. With concussion a hot topic, the amount of games being played really has to be looked at.
And now, on the quarter finals!
First up on Saturday is the real heavy weight contest between South Africa and Wales. It's unlikely to be a feast of running rugby, Wales have a strategy of seeking as much contact as possible, and the Springboks are the biggest team in the tournament, and pride themselves more than any other team in their physical approach, formed deep in their psyche as the way 'real' men play rugby. I've added in some effects for you to stick on you TV screen to enhance the experience!
For Wales scrum half Gareth Davies is one of the finds of the tournament, their best player so far for me, although Dan Biggar's kicking has been awesome. South Africa actually have a better running backline than Wales should they choose use it. Wales don't seem to have a plan B when smashing into the other team doesn't work, so I'm going with South Africa.
France v the All Blacks is another mouth watering prospect, so much to look forward to and enjoy. The French are the New Zealanders bogey team, and All Blacks have been under par by their high standards so far. And the French, what can you say? The biggest game of the last four years, and what do they do? Fire the coach on the eve of the match. It's just so French, just so 'We don't care, we'll do what we want, when we want, and if we want'. You have to have a bit of sneaky admiration for the cussedness of it! They so could win this, but I think this all Black team is just good and too organised.
Ireland head into their quarter with Argentina, shorn of a few players, but not down hearted and pretty realistic about the challenge ahead. The team is in a fantastic place when they lose of the best Irish players of all time, have doubts over Jonny Sexton, no Peter O 'Mahoney and have the Tullow Tank parked in the shed, but still have the players to step in and take up the challenge. Argentina have a great team and have been playing fantastic rugby. But when you hear them talking about how well they can do at this World Cup…easy Tiger, you have beat Ireland before you can do well at the World Cup! I've no doubt that Joe Schmidt has the plans in place to rein their running game, and then their discipline is not always great, so I could see a yellow card for them easy enough. So basically, we're going to win!
Finally Australia get to take on Scotland. Form suggests that this will be the least competitive of the 4, but Scotland know that this is knock out rugby now. They can play a nigglingly physical game, where the other team gets sucked down into endless tackles and mauls, they bang over a few penalties, and surprise! I also don't know how Australia will react to the 'favourites to win the World Cup ' tag, and if they struggle early on, Scotland have a chance, But I'd be surprised to see Australia lose.
Finally, a quote from Jono Gibbs, former All Black, and Leinster player and coach , eloquently making his point: "Nobody in Rugby should be called a genius. A genius is a guy like Norman Einstein."
Saturday, October 17
MATCH TIME (BST) TV LOCATION
South Africa v Wales 4:00 PM Twickenham Stadium, London
France v New Zealand 8:00 PM Millennium Stadium, Cardiff
Sunday, October 18
MATCH TIME (BST) TV LOCATION
Argentina v Ireland 1:00 PM Millennium Stadium, Cardiff
Australia v Scotland 4:00 PM Twickenham Stadium, London