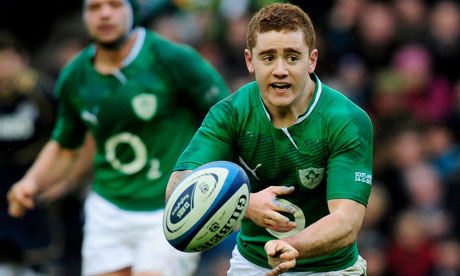 New season, new coaches – mostly the same old players for Ireland, but we're hoping for new things ie winning regularly. Playing Samoa, Australia and New Zealand, however, could mess with those hopes in the short term. I was reading a bit new assistant coach John Plumtree had to say about improvements to the Irish line out, and had a look at his bio. He coached Swansea in the late 90's, then the Wellington Lion, and finally the Sharks. So he's earned his chops that's for sure, and he watched the quadrangular series with Italy, Scotland, South Africa and Samoa this year, so he has a lot of insight into the Samoans. He also discovered Gavin Henson, but don't let that put you off.
I saw that a survey rated Samoa as the side most likely to cause an upset this weekend. Well, the Australians could beat Italy too! The last time Samoa came to Dublin, we beat them 20-10. In fairness they weren't above us in the World rankings at that time. Anyone with a n ounce of rugby knowledge know's we are in a mighty battle this weekend. I'm still backing us to win though, mmm, for a few reasons. Firstly, structure, we have a good defensive pattern, and good rhythm when we play to anywhere near our potential. Also our discipline is good on the whole.
I like the team Schmidt has gone for- he's taking a few chances, and giving some players a chance. I hope Paddy Jackson starts well, he's a confidence player, and sometimes it can go either way. O'Connell as the captain is a good idea, and Heaslip for the match. 'mon Ireland!
Ireland: 15 Rob Kearney, 14 Tommy Bowe, 13 Brian O'Driscoll, 12 Gordon D'Arcy, 11 Fergus McFadden, 10 Paddy Jackson, 9 Conor Murray, 8 Jamie Heaslip (c), 7 Chris Henry, 6 Peter O'Mahony, 5 Devin Toner, 4 Mike McCarthy, 3 Mike Ross, 2 Rory Best, 1 Jack McGrath.
Replacements: 16 Sean Cronin, 17 Cian Healy, 18 Declan Fitzpatrick, 19 Paul O'Connell, 20 Sean O'Brien, 21 Eoin Reddan, 22 Ian Madigan, 23 Dave Kearney.
I have a few grumbles about the weekend – too many clashes of good matches. And for Ireland, how about spreading these things around a bit – why not play Samoa at Thomond, and plan a few matches for Ravenhill when it's finished?
The best match of the weekend is likely to be France v the All Blacks. The All Blacks have come full strength. I think they'll struggle in the scrums, but get home easy enough.
International Match
Saturday , November 9
Italy vs Australia 14:00
England vs Argentina 14:30
Scotland vs Japan 14:30
Wales vs South Africa 17:30
Ireland vs Samoa 17:45
France vs New Zealand 20:00