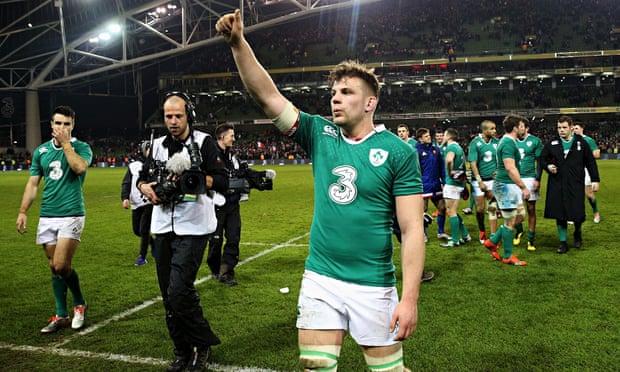 Jordi Murphy ( Picture http://bit.ly/181Rb0s )
Sundays match is building up to be Ireland's biggest match in years. We always want to beat England, sure we wanted to beat France, but we want to BEAT England! This is match 3 for everybody, the last number of 6 Nations have been decided on points, slams are pretty rare things these days, so the loser on Sunday may well still go on to win the whole thing. But it's the two form teams meeting, and it does have the winner takes all cup final feel to it. England were the only side we lost to last year, when they had home advantage, so this is a real test for where we are now, just how good are we? We've lost Jamie Heaslip, through an act of French thuggery, but Jordi Murphy did a good job against Italy, and no doubt he's going to step up again, while England are without Mike Brown. This is like chess, how we take the size of the English out of it, passion won't be an issue for us, but it's going to interesting to see what tactics Joe Schmidt has to bring to give us the edge. Against France, we played where we want to on the pitch, kept them in their half, and let them make the mistakes, will be we able to contain England like that? Will our scrum hold out? I for one cannot wait, I think it's going to be epic, if we can beat physically big sides like France, Australia and South Africa, we can beat England, I think we will, and it never hurts that hard to beat them does it?
Elsewhere, again, a feast of rugby. It's giant v Goliath as France and Wales square up in
Paris. The French have made a few strangely common sense selections, going with Parra, and bringing a bit more flair into the back line, which give you concern for the health of coach Philippe St Andre. Are you feeling OK Philippe, do you need a lie down? France's problem for number of years has not been who you pick, but who do you leave out? Leaving out the most talented players seems to have been the most favourable option recently, but I like the look of this French side. I don't think Wales will physically dominate France, and if they couldn't contain Scotland very well, good luck against the likes of Fofana, Dulin et al! So France for me.
Finally Scotland welcome Italy to Murrayfield for the annual wooden spoon competition. Italy will be without prop inspirational Martin Castrogiovani won't be playing after his friends dog bit his nose last weekend, and Scotland lose fly half Finn Russell to a harsh two week suspension. I reckon this is going to be a watershed match for Scotland, they'll win and win well.
Six Nations
Saturday, February 28
Scotland vs Italy 14:30
France vs Wales 17:00
Sunday, March 01
Ireland vs England 15:00