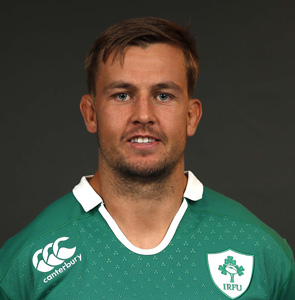 Dave Foley (picture http://bit.ly/11toKGb)
Ireland waited for 50 minutes to start scoring tries against Georgia, and after that they couldn't stop, scoring 6 in total. It's always hard when you have a team made of fringe players, there's not the cohesion of your main squad. The first half was pretty scrappy, and the Georgians were working a lot of the dark arts at the ruck to keep Ireland's ball slow. Then when the ref got serious about policing the infractions with yellow cards, the space opened up and the tries came. We had a solid scrum, and some good debutants, with Foley and Ryan playing well. The players who stood out for me were Kilcoyne, Madigan, and Jones. Ay You also played well when he came on, and Tommy O'Donnell will never let you down. Joe Scmidt has moulded the guys really close, and has drawn talent well from the 4 provinces. Job done, now for Australia!
I watched the England match, where the Springboks really seemed to have their measure. The English pack was very good as usual, but apart from Mike Brown, the rest of the backline didn't seem to have much to add. When the Boks have more sparkle in their backline than you, you have work to do!
Scotland had a great chance to beat the All Blacks, and just came up a little short. Their defence had the New Zealander's scratching their heads, they got the win in the end, but it's not one they will look on with pride. There's a big change in Scotland, they just need a little more self confidence and they are going to be really hard to beat.
Finallly, France took out the Walabies in a thriller. That was the best of the French – jaw dropping physicality, and flair and pace to burn in the backs. Australia played well too, but they just couldn't finish strong enough to win.
International Match
Ireland 49 - 7 Georgia
England 28 - 31 South Africa
France 29 - 26 Australia
Wales 17 - 13 Fiji
Scotland 16 - 24 New Zealand