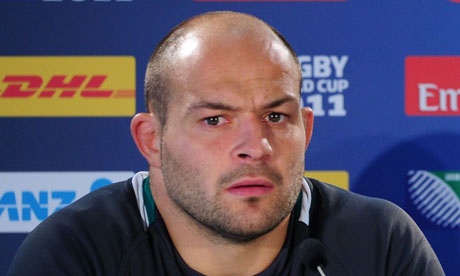 (picture http://bit.ly/1vscwL7)
Saturday is the acid test for the Cult of Joe. We had the oh so nearly against New Zealand, smashed the 6 Nations, then beat the Springboks. Now we have the Wallabies, where due to the recent run of results, we are kind of the favourites. Favourites? That's a dangerous word in Irish rugby, we always seem to play better when resentment has been allowed to fester – so you don't give us chance, do you, well, WE'LL show you! And, bitterness and resentment aside, we have a bit of history of going from being underdogs to being overconfident and cocksure. And then getting our arses kicked. This is where In Joe We Trust comes in. Joe Schmidt is a man who exudes quiet confidence. He's always the least surprised when we win because he has planned and anticipated it. Now of course, he has to deal with the weight of public expectation.
But on the basis of his track record, you'd think a bit of his quiet confidence will have infused itself into the squad, and he'll have a cunning plan for Australia. And let's face it, Australia have their problems, but any team that played the All Blacks three times this year, got a draw, and lead them until the final 10 minutes in the last test, can't be all bad. We won't have Payne, but we have Best available to pick, and of course Henry is out for the moment, I really hope it's nothing serious
The Australians have Michael Chieka on board, who's coached half of the Irish Squad, and played against most of the rest, so he has a few insights into the personal attributes of individual players. The Wobblies have two objectives I'd say – get the win, and stay out of trouble. The Australian press still talk about the exploits of as they call them, the 'Dublin 6', from last year, and Kurtley 'Make mine a double' Beale is now back in the squad. They have picked monster wing Henry Speight, him and Kurandrani are going to take some stopping. I think it's going to be Titanic, and we'll win it by a point!
Apart from that, we have Wales v New Zealand, where Wales are talking the talk…but I think the All Blacks will walk the walk. And France and Argentina, should be great, where the French should have the upper hand.
AND there's Pro 12, where Leinster have an away match in Treviso, and well welcome back Dave Kearney, Jordi Murphy, Fergus McFadden and Shane Jennings. Enjoy!
Saturday , November 22
Italy vs South Africa 15:00
Scotland vs Tonga 14:30
Ireland vs Australia 16:30
Wales vs New Zealand 17:30
England vs Samoa 19:00
France vs Argentina 21:00
Guinness PRO12
Friday , November 21
Dragons vs Munster 19:30
Scarlets vs Glasgow Warriors 19:35
Connacht vs Zebre 19:35
Ulster vs Ospreys 19:35
Sunday , November 23
Treviso vs Leinster 14:30
Edinburgh vs Cardiff Blues 16:00