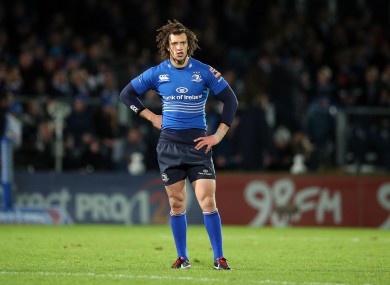 (picture - http://bit.ly/1qy5Iar)
It wasn't a vintage weekend for the Irish provinces, with Connacht's good home win over Dragons the only thing to write home about. That's just the start that the Galwegians needed. Following closely behind was Ulster's draw with the Scarlets away, closing up right at the end of the match. That match sounded pretty well like the match of the weekend.
The ones I got to watch were pretty dismal from an Irish viewpoint. Edinburgh had lost 22 of their last 23 matches in Ireland, make that 22 of the last 24 as they put away an underwhelming Munster side. The scrum struggled, their tackling was terrible, and Keatleys poor kicking for posts really cost them the match. Edinburgh looked quite settled, and up for the match, Cornell Du Preez and Jack Cuthbert were very impressive, while for Munster, Simon Zebo stood up tall, and Shane Buckley especially, but Andrew Smith too, had good debuts. That was a Munster B-side, so you wouldn't want to get too carried away, but I think they'll think hard before they start Duncan Williams again.
Well anything Munster can do Leinster can do better, so while Munster stank, Leinster gave off the foulest of deathly odours in the first half against Glasgow. Leinster's tackling was abysmal, their physicality is still on holiday, and they were interested spectators for the Warriors three tries in the first half. Things turned around in the second, with a good try, and a lucky one for Leinster (although Glasgow got a lucky one too) but it wouldn't have been fair to Glasgow to get a win there. The backline play is nearly non existent – not helped, in fairness by the loss of Noel Reid in the first minute, and the loose trio, hung loose like, and didn't do anything, while the locks were pretty idle too. Last year, in the same fixture, at the start of the season we lost by 6 points, so I guess Leinster still have time to come right. Glasgow palyed well, with a lot of confidence. The only Leinster to do himself justice was full back Zane Kirchener.
In the Rugby Championship, New Zealand Argentina was a cagey affair, the All blacks got their four point bonus point, but never really looked like cutting loose. The All Blacks have shipped a few injuries too, losing Whitelock and Messam is a blow. Argentina actually scored a perfectly good try, so the match was closer than it looked.
In Perth, the Springboks threw away a win that was theirs, with a last minute kick to touch not going out. They had a pretty harsh yellow card on Habana – I don't even think it was penalty. I can tell you, George Clancy is not the toast of South Africa right now. The Springboks played a lot better, but Australia were pretty poor, and would have beaten South Africa a lot easier with a bit more poise. The Springboks were livid at the end of the match – I just hope that anger carries on until next week, which should make the Springbok All Black match a real classic.
Guinness PRO12
Saturday , September 6
Scarlets 32 - 32 Ulster
Connacht 16 - 11 Newport Gwent D'gons Glasgow 22 - 20 Leinster
Friday , September 5
Munster 13 - 14 Edinburgh
Ospreys 44 - 13 Benetton Treviso
Rugby Championship
New Zealand 28 - 9 Argentina
Australia 24 - 23 South Africa