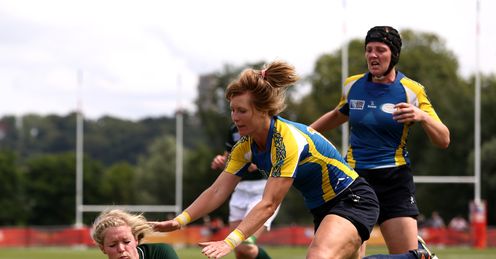 (picture http://bit.ly/1kUacbg)
Ireland got going on Saturday with the first match of the day, against Kazakhstan. A simple win would have been enough to get into the semis. With 10 changes from the team that did heroics against New Zealand, there wasn't going to be the fluidity that we'd seen in the first two matches. And after starting like a house on fire, they lost their way a bit, conceded a try and scraped through at the end of the first half with a lead and work to do. Even in the first 20 minutes of the first half, they weren't looking too flash, until a few subs added the quality and the organisation so they ran away with a good victory in the end. Jackie Shiels and Sharon Lynch were the stand out players for me. Fair play to the Ladies from Kazakhstan for hanging in to the end, some achievement to be there at all. Another fab post match interview from Lynn Cantwell too, these ladies are playing a blinder!
So at that stage, a 3rd place finish looked on the cards.
But there more surprises on the way – England and Canada drew, which meant they both finished below Ireland, eliminating the Black Ferns in the process. And in the final match, a tough gritty affair, France eliminated the Australians. So next up for the final is Ireland England , France Canada. Any team can win it now, and quietly confident, the Irish ladies are honest enough to say they can win it. In the top two after the pools, not too shabby!
09 Aug 2014
09/08 - 13:00 Ireland 40 - 5 Kazakhstan FFR HQ
09/08 - 15:00 Spain 41 - 5 Samoa FFR HQ
09/08 - 15:45 England 13 - 13 Canada FFR HQ
09/08 - 17:00 Wales 35 - 3 South Africa FFR HQ
09/08 - 18:00 New Zealand 34 - 3 USA FFR HQ
09/08 - 20:45 Australia 3 - 17 France FFR HQ
13 Aug 2014
13/08 - 14:00 South Africa - Samoa FFR HQ
13/08 - 15:45 New Zealand - Wales Stade Jean Bouin
13/08 - 16:15 Spain - Kazakhstan FFR HQ
13/08 - 18:00 Ireland - England Stade Jean Bouin
13/08 - 18:30 Australia - USA FFR HQ
13/08 - 20:45 France - Canada Stade Jean Bouin