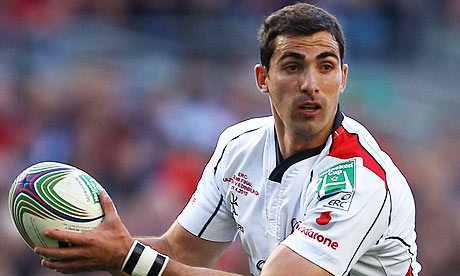 ( Picture http://bit.ly/1nRSx3X)
So this is it, no more messing around, there's two teams going man down, Brown, this weekend, so who's it going to be?
First up is Munster's trip to Glasgow. The Scots are heavily tipped to go all the way this year, while Munster have been a bit erratic these last few weeks. If they play like they did in the second half v Toulon, they'll win no problem, but if they play like they did last weekend, that's the end of the season for them. Both have formidable starting line ups – although Stuart Hogg is notable by his absence. But it's quite unusual to see Glasgow with more capped internationals on the bench than Munster, and I think that could tell in the second half when Munster start to tire. Home advantage is massive for Glasgow, I think Munster would have won at home, but his weekend I think the Scots will prevail.
On Saturday, Leinster get to lock horns with Ulster. After winning the HCup two years (against Ulster), and last year winning the RaboDirect (also against Ulster) and the lesser spotted (but still worth having Amlin Cup), really this year the SweetEffAll season is looming. There will be goodbyes for Brian O'Driscoll and Leo Cullen the next time they lose. Despite topping the Rabo table, Leinster have looked pretty ordinary for the last half of the season, which probably peaked with their away win at Northampton. Ulster have Rory Best and Ruan Pienaar back, which is a massive boost. I kind of think that Leinster will scrape though this one, while ref Leighton Hodges sweats and brandishes cards.
RaboDirect PRO12
Friday , May 16
Glasgow vs Munster
Saturday , May 17
Leinster vs Ulster