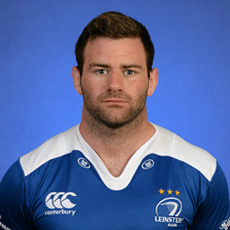 Fergus McFadden - don't let the smile fool you!
Leinster had a good evening at the RDS on Friday, getting the bonus point win that kept them on top of the PRO 12. It wasn't the complete performance – they don't give away 23 points too often, and there a big cheer when they finally managed to squash out Edinburgh's challenge in the 82nd minute. Leinster looked like they would run away with it at one stage, but lost a lot of shape when a flood of replacements came on near the end. All in all, considering the absence of a some of the big names, a good day at the office. I'm really happy to see the way Mick Kearney is developing, and Rob Kearney is showing some form with his return. And Fergus McFadden is becoming the angriest man in rugby!
Ulster easily wrapped up their bonus point against Zebre.
The Scarlets got hammered by Glasgow, in a one sided match. No doubting the quality of Glasgow, who must be favourites to retain their title, but a pity to see the Scarlets falling way back from their best. Glasgow were flirting all over the offside line though, they'll struggle a bit more when that's policed properly.
The biggest match was without doubt Connacht v Munster, with a couple of history making moments. It's the first time Connacht have beaten Munster back to back in a season, and the first time they've made the Champions Cup on their own steam. Refereeing was a little contentious – Cronins yellow seemed harsh, and I thought Adeolokun knocked on. Whatever about the ref though, there's no doubt that Connacht play the most fluid, confident rugby of any of the Irish provinces. And also that Munster are in trouble – they scored no points in the second half against a province with half of their resources. They have plenty of talent, but not enough direction and leadership, they can still play Champions cup, but they're relying on Edinburgh tripping up.
Friday, April 15
Leinster 30 - 23 Edinburgh
Ospreys 47 - 10 Benetton Treviso
Saturday, April 16
Scarlets 10 - 46 Glasgow Warriors
Zebre 17 - 47 Ulster
Connacht 35 - 14 Munster
Sunday, April 17
Cardiff Blues 28 v 8 Dragons