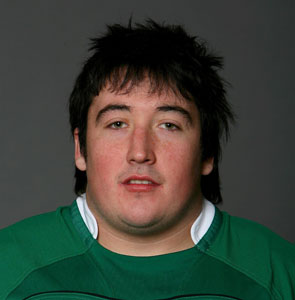 Denis Buckley
Friday night was not happy viewing for Leinster fans. We were nearly good enough to bring a B team to the Dragons and win, but not quite. There were a few bright spots – that scrum is rock solid, and Zane Kirchner is showing some of the poise and skill that brought him to Leinster. We fell down in a few areas too – there's not enough mongrel in the pack to take us over the try line in those close exchanges. And our defence (with that selection) is not what it should be, especially against a quality backline player. We also struggled to clear our lines, being kept down on our line for far too long. And discipline, two yellow cards, not good enough.
The Dragons defended well, and could attack with purpose when they had chances. That pitch of theirs is appalling – I had serious health and safety concerns about the sidelines. So not a great day really. But what we're doing is developing our youngsters. If Toulon need a scrum half or a fly half, they look at the best players in the world and buy one of them. We look at our academy and make someone into a world class player! Eventually.
Munster managed to spare their blushes by coming back to win in the second half against mighty Zebre. And Ulster got the bonus point against Treviso.
Finally, Connacht put Scarlets away pretty easily to go second in the league. They completely atomised the Scarlet scrum, picked up a yellow card from that, and then the Scarlets were even more generous with another well deserved yellow. Heenan and Buckley looked good, and great to see Henshaw back.
Friday, January 29
Dragons 23 - 13 Leinster
Saturday, January 30
Zebre 12 - 16 Munster
Connacht 30 - 17 Scarlets
Benetton Treviso 13 - 32 Ulster
Cardiff Blues 10 - 3 Edinburgh
Sunday, January 31
Ospreys 20 - 20 Glasgow Warriors